The Berenstain Bears Living Lights Collection
- Jan Berenstain, Mike Berenstain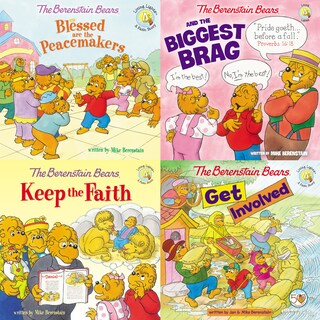 Zusammenfassung
Young readers will enjoy The Berenstain Bears Living Lights Collection, a four-book treasury of the Berenstain Bears Living Lights™ series audiobooks. Children will learn biblical values through stories about the familiar and well-loved Bear family.

The Berenstain Bears Living Lights Collection—part of the popular Zonderkidz Living Lights series of books—is perfect for:

Early readers ages 4-8classrooms, and during story time at home or at bedtimeOn-the-go listening, an at-home companion to the print books, or a new addition to your home librarySparking intentional conversations about being a peacemaker, serving others, and respecting the differences of othersThe Berenstain Bears Living Lights Collection is an addition to the Living Lights™ series that:

Features the hand-drawn artwork of the Berenstain familyContinues in the much-loved footsteps of Stan and Jan Berenstain in this Berenstain Bears series of booksIs part of one of the bestselling children's book series ever created, with more than 250 books published and nearly 300 million copies sold to dateIncluded in the timeless collection you'll find The Berenstain Blessed Are the Peacemakers, The Berenstain Bears Keep the Faith, The Berenstain Bears and the Biggest Brag, and The Berenstain Bears Get Involved.